Young Resaerchers Meeting (May 9)
Instructions to Participants
Thank you again for participating the Young Researchers Meeting at the MVA'17. Please read the following instructions and feel free to contact the technical event chairs if you have any question.
Name Tag (Due on Apr. 24th)
We will print a name tag that can be used to introduce you and your research interests. Please fill out the template and email it back to m-kobayashi(at)morphoinc.com and yonetani(at)iis.u-tokyo.ac.jp by Apr. 24th.
Meeting Program
The Young Researchers Meeting will be held at Gallery (Lobby 3) on the second floor in Toyoda Auditorium during the complimentary lunch session on May 9th. Please come to Gallery (Lobby 3) by 12:10 to check in and pick up the printed name tag and a complimentary lunch box. The meeting will have two sessions: 1) in the first session you will be assigned to a small group to interact with some company researchers or recruiters exclusively; 2) in the second session you can freely interact with all of the participants. The event will be closed by 13:10.
List of companies (TBA)
Huawei Technologies Japan K. K.
DWANGO Co., Ltd.
ABEJA, Inc.
Cambridge Research Laboratory, Toshiba Research Europe Ltd.
Morpho, Inc.
Nissan Motor Co., Ltd.
What's this event?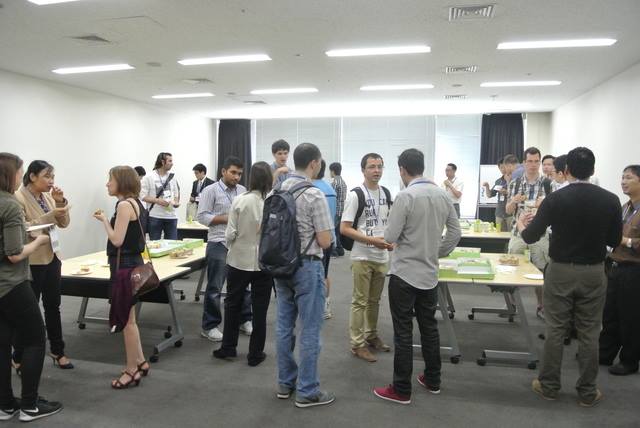 State-of-the-art technology companies are craving talented and highly motivated researchers, while it can be difficult for such researchers to find companies in which they can play truly active part. In response to earnest requests from the both sides, we decided to hold an event to match them in a conference. Researcher participants will meet with company recruiters in small groups during complimentary lunch sessions. Compact group discussion could lead to effective self-promotion and opportunities for jobs, internships, and special tech-related events such as a hackathon. Do not miss this great opportunity to build close relationships with worldwide industrial society.
Registration
Registration page for the young researchers' meeting will be available after MVA2017 registration is open.
Participants must register to the MVA2017 conference, but are not required to be presenters.
First 50 (tentative) applicants will be accepted.
Registration is free of charge.
Preparation
Material
Participants should prepare materials on their researches.
Materials may be printed or electronic data (PPT, PDF, etc.)
No display screen will be provided. Participants should bring their own PC or tablet if needed.
Name Tag
The organizer will prepare name tags showing participants' name, affiliation, research topics, and any extra information.
Participants will be asked to submit the required information by filling a format given by the organizer.
Contact
Please contact the technical event chair, if you have any questions about this event.