Demo 9: 3RD EYEFMotorbike Collision Prevention System utilizing V2V Communication
Exhibitor: Keio-NUS CUTE Center, National University of Singapore
At present, a GNSS / CN based electric toll collection system is examined in Singapore. In GNSS/CN based system, Vehiclefs position is calculated by GNSS positioning technique and transaction records of vehicles are sent to Central System by Cellular Networks. Also, the GNSS/CN On-Board Unit (OBU) get a precise position without delay and the OBU has a Vehicle to X(V2X) communication capability for value-added services.
3RD EYE is a special helmet that allows a riderfs safe operation to be assisted with advanced technologies. This helmet-style collision prevention system for motorbike utilizing Vehicle to Vehicle (V2V) communication technologies. The LED array embedded beneath the visor of the helmet tells the safety direction for the rider, based on the location information of cars located around the motorbike. The information presentation in the peripheral visual field could ensure the eyesight ahead, and be able to respond to vehicles from behind. In this research, we verify the importance for utilization of the collision prevention system as well as interoperability of the system between automobile and motorbike.
In this exhibition, we will demonstrate the prototype of helmet system utilizing simulation model of driving a motorbike on the road.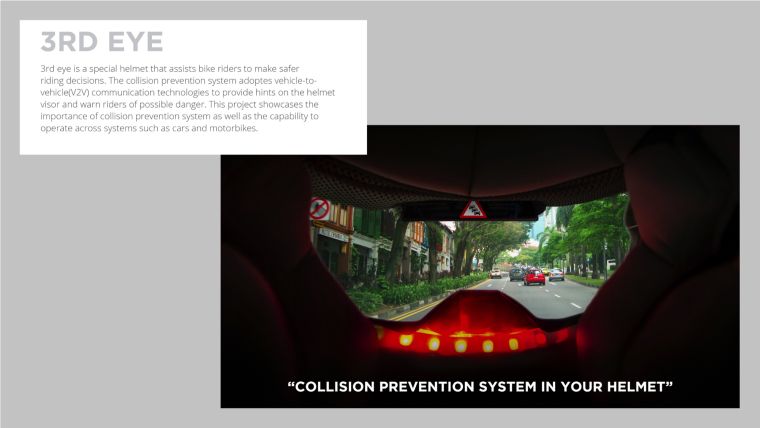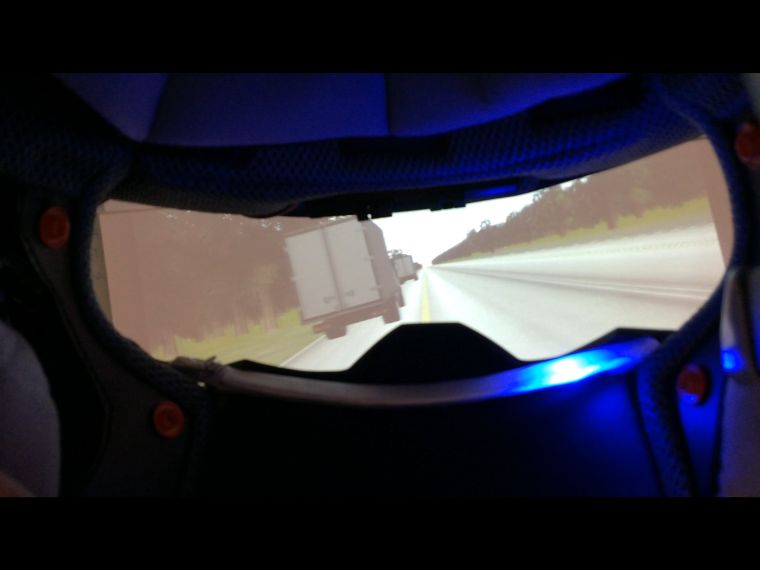 Top
Demo 1
Demo 2
Demo 3
Demo 4
Demo 5
Demo 6
Demo 7
Demo 8
Demo 9